Forever foster boy darling Dylan age 11.5 came into rescue at the beginning of October 2020. Dylan was emaciated, you could see every rib sticking out and his feet and legs were heavily stained because of allergies.
Immediately he stole all of our hearts, he has the most soulful eyes and despite all he has going on he has a strong spirit.
The first day
We quickly came to realise that he is both deaf and almost blind. He settled straight into his foster home with the other kind Cavaliers that showed him around.
It was when he was put in the shower for the first time it became apparent how thin he was. He looked so delicate and frail, as though he could be blown down with a slight breeze. He was incontinent and leaking urine. He was also defecating an unusual amount of times throughout the day, perhaps every one or two hours initially.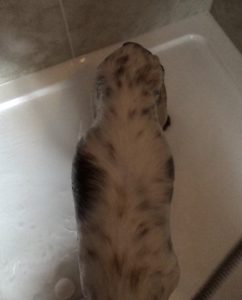 Dylan was taken to see our vet, very sadly straight away the vet found he had a grade 6 heart murmur. He came into rescue without any medication so was booked straight in for an echocardiogram. Following the echo he started pimobendan which helps the heart pump and opens up the blood vessels allowing blood to be carried to and from the heart more easily.
He had blood tests to help the vets establish his overall health. He had a high white cell count so was started on antibiotics. His blood results also revealed he was anaemic.
Poor Dylan had untreated dry eye, we are unable to reverse the damage that has already been done to his eyes. We are however able to keep him comfortable with eye lubricants and Optimmune.
Dylan went to his foster home with his medication and would be seen numerous times in the following weeks. He had follow up blood tests and an ultrasound which revealed a mass on his spleen, we don't know what it is and his heart is too poorly to operate. Some spleen masses are benign and some are cancerous, we will never know either way so we just hope and pray it is benign.
Fast forward to January 2021
Dylan now weighs 8.8kgs so he is gaining weight slowly but surely. He gets on well with the resident dogs in his foster home but loves nothing better than to cuddle up to his humans on the sofa. He isn't fussed about toys, he just wants to be loved.
Dylan has had a wonderful Christmas with his foster family and his three Cavalier best friends! They got lots of extra tasty treats and plenty of cuddle time.
He can't jump up on the sofa but will stand and bark at you until you lift him up, his wish is our command! That's what his foster family are there for! He has allergies so is on a special diet and has monthly injections which help the symptoms.
Dylan enjoys his walks, he loves sniffing every new smell he comes across, some walks are shorter than others, his foster mum just lets him decide where he wants to go, he even knows the shortcut home!
Being an old boy, Dylan loves his sleep, believe it or not he has to be woken up for meals, which is unusual for Cavaliers as we all know they love their grub.
He likes to sleep at the side of the bed at night, his human slave strokes him until he falls asleep and she can't stop too soon. Dylan also suffers from doggy dementia, which means he can't remember when he has been fed or if he has already been out to the toilet, a few cuddles normally calm him down.
He is such a gentle, loving boy, enjoys a shower and brush. He is good at getting his eye drops in and taking his meds. We don't how long he has left but will make sure that every day counts, he is a happy boy and deserves nothing but the best.
Thank you so much for supporting us to help dogs like Dylan that need so much ongoing veterinary care. If you would like to donate towards Dylans monthly medication we would be very grateful, you can do so via Paypal and you don't need an account. Just click here to be taken to our Paypal page.