Cavalier Fat Club was set up as a Facebook group in October 2019. The group began as we were noticing more and more Cavaliers were coming into the rescue overweight, some were clinically obese and struggling with the health issues that this brings.
Cavalier Fat Club Group Support
The group now has more than 600 members and along with two nutritionists from Burns Pet Food, we have created a very supportive environment where we are all there with the same aim, to help the dogs lose weight and give them all a better quality of life.
Members join wanting advice on how to help their dogs lose weight, everyone has their own individual involvement within the group. Many join in with our monthly weigh-ins and a winner is announced each month who wins an award and a prize for the most weight lost. On average the group loses between 8-10kg of excess poochy weight each month which is just fantastic- we are so proud of every Cavalier and their owner that takes part.
Other members prefer to monitor their dogs at home, so they join to gain the information that they need and then monitor their own dogs' loss. Again, these members have achieved excellent results with their dogs.
Many have used the excellent service offered by the Burns nutritionists that are on hand to help us all. They have had individual telephone consultations with the nutritionists to devise their own weight loss programme for their dog.
Whichever route the members choose to take, they get the same support and encouragement from all the group members. Owners are becoming more aware of the issue of obesity in dogs with 44% of owners now regularly weighing their dog, which has increased from 24% of owners in 2011. This can only be a good thing but we all have a way to go yet.
Throughout the year certain facts regarding dog obesity have come to light and between us we have found the types and brands of food that seem to help more with achieving weight loss. A lot of the foster dogs are fed on Burns Sensitive complete dry food. As the dogs were gradually moved over onto this after their arrival into rescue we discovered that it contributed to many other health benefits too. Being hypo-allergenic the food helped with skin issues, we then found that its low fat content made it suitable for dogs suffering with pancreatitis and subsequently that fat content became a key factor in the dogs losing weight. More and more members began switching their dogs over to Burns Sensitive and began to see fabulous weight losses in their dogs too. Many are achieving results such as a 500g to 1kg loss per month, with it being reported that the dogs were becoming more active and really enjoying their meals. As it is a good quality food, high in fibre, low in protein the feeding amounts were less and the dogs fulfilment was lasting longer. From the PDSA Wellbeing Report, 71% of owners surveyed now prefer to feed their dogs a complete dry food.
How does carrying too much weight affect dogs?
Having a dog that is overweight can reduce their lifespan by up to two years. Dog obesity can be life threatening too.
An overweight dog is more likely to suffer from a disabling medical condition like –
Arthritis
Heart disease
Lung disorders
High blood pressure
Immune dysfunction
Cancerous tumours
Diabetes
78% of vets have reported an increase in overweight pets in the last 3 years. (PDSA Animal Wellbeing Report 2020) with 46% of dogs seen in their practices each week are overweight. 52% of vets surveyed have identified obesity as a main concern for dogs in their care.
Cavalier common health conditions negatively impacted by being overweight
Mitral Valve Disease- Many Cavaliers suffer from Mitral Valve Disease, by the age of 10 years a huge 90% of them will have a heart murmur. Being overweight makes the heart work much harder so they really cannot afford to become chunky.
Brachycaphalic- Cavaliers are a brachycaphaelic breed therefore already can have breathing issues, extra weight will make breathing and exercising even harder.
Chiari Malformation/Syringomyelia- Up to 70% of Cavaliers have CM/SM. Being overweight affects both conditions hugely.
Luxating knees- Very common in Cavaliers, extra strain on joints can cause faster deterioration.
Hip dysplasia- Extra strain on the hip joints will cause pain.
How to tell if your Cavalier is overweight:
If the ribs, spine and hips of your dog are protruding, they're underweight.
Dogs that are an ideal weight have a visible waist and you can easily feel their ribs.
If you have to press to feel the ribs, this means that there is a layer of fat covering them and your dog may be overweight.
Obese dog tend to have no waistline, but instead may have fat rolls around the neck and a drooping belly.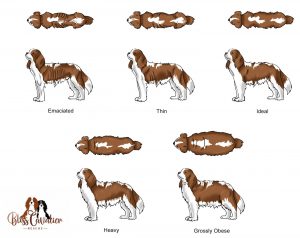 How has Coronavirus affected weight?
Covid-19 has brought its own challenges on keeping our dogs to a trim and healthy weight. On one hand 89% of owners have said that owning a pet makes them feel mentally healthier, with 82% of owners walking their dogs every day, meaning both dog and owner benefit for the stimulation and socialisation that this involves. 13% of dogs though do not receive a daily walk.
Pre-lockdown 67% of dog owners said owning a dog makes them physically healthier but 16% have admitted to feeding their dogs more treats during lockdown, with 8% of owners admitting their dogs have gained weight this year.
This is where Bliss Cavalier Fat Club has proven invaluable to our members; with vets being closed some of the time they have not been able to get the support needed from their practices on weight loss advice etc. We have been encouraged by our member's results this year and are on hand to offer advice and support and share success stories to help us all along the way.