When any of our Cavaliers are listed as 'ready for adoption', our team carefully reads each application form – and we do understand that people are disappointed when the dog they've applied for goes to another forever home.  Like us, dogs have individual personalities and needs; placing them with the family which is the best match is paramount.
Crystals story-
On the 7th November 2018 I received the first photograph of Crystal, en route to her foster home. What a stunning little 18 month old, black and tan cavalier!
Apparently she'd been bullied by a much larger dog in her previous home. Crystal arrived complete with a very large ham bone, a new toy, a blanket and collar and a lead. She proved to be a lively little Cavalier in the day time, eager to run in the garden and explore. For safety the cat flap had to be locked incase she disappeared through it! She had no recall – no understanding of basic commands.
Crystal had another side to her personality 'though: She was very 'needy' in the house, lying on her back on the ground, wanting to be stroked. In the evenings Crystal would lick the tips of my fingers for comfort and reassurance. As soon as she appeared on the Bliss Cavalier Rescue website the applications started arriving for this young, pretty, healthy little Cavalier – and by the 11th of November 44 applications had been read.
Crystal was due to be spayed on the 12th. Into the vets she went – and out she marched again. Crystal was having a phantom pregnancy! She returned on the 26th to see if she was in pup as she had been producing milk. A scan showed there were no puppies – but Crystal was now in season! At her next vet appointment check on December the 8th, hopefully to arrange her spay date, Crystal had come into season yet again. Her spay was booked for January 2nd.
Meanwhile, Crystal's adoption applications had reached the mid 80s. We stopped counting them after that, 'though each one was read. She could not be adopted before xmas. The circumstances in Crystal's first possible forever home had changed during the spay waiting period. Also more of Crystal's character was emerging. The short list of applications for her was reduced to an even shorter one.
Patiently waiting on this list , there it was – Crystal's perfect forever home!
Tabetha and Neve continue Crystal's story
Neve: It all started when daddy showed mummy a picture of one of the most adorable dogs I've ever seen, called Crystal … While we waited for more news, Tabetha and I would play games about her, like Tabetha would pretend that she was Crystal and I was the owner… However, a few days later, we had some really disappointing news. Diana had found Crystal a family … and it wasn't us. Tabetha and I were so miserable, we nearly cried. We felt this way because we had been waiting for this moment our whole life, and when we thought we had a dog, it just slipped through our fingers, like sand on a beach.
Days and weeks passed with no news on Crystal's new family, but we still had hope in our hearts. Then a miracle happened. Now, I don't usually believe in miracles, but there is really no other way to describe what happened next. Diana thought that the family she had chosen weren't right for Crystal. So that meant we were next on the list! I could hardly contain my excitement. Over the next few weeks, time passed very quickly.
We had a home check, and got lots of dog advice from our friends. Then the day came. The day we would finally meet Crystal for the first time. On the journey there, I started to worry. What if she barked? What if she bit me? What if she jumped up? Little did I know that she would do none of those things.
Tabetha: When we found out that we might get Crystal, mummy said not to tell anyone in my class, but I told everyone… We planned to meet Crystal for the first time at Diana's house, she is Crystal's foster mum. I just could not WAIT!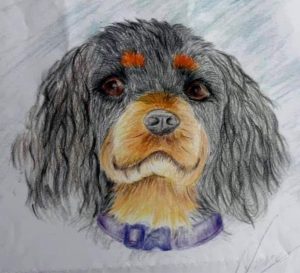 December 29th
Tabetha: When we first saw Crystal she went crazy and was so excited, then she calmed down, slowly climbed onto our laps and rolled over for a belly rub.
Neve: As soon as we walked through the door, and sat down, Crystal headed straight towards me. She jumped up on the sofa onto my lap for belly rubs. All of my nerves instantly disappeared. I loved her more than anything else.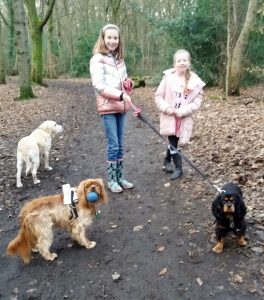 Tabetha: We all went for a walk together in the woods. I just LOVED holding Crystal's lead. I was sad when we had to leave her. We will go back and collect her after she has had an operation so she can't have babies.
Neve: I hated leaving Crystal, but it made me more excited to see her again. When we finally got home, it was time to go back to school. Mummy instructed us not to tell anyone about Crystal … I obeyed the orders, however Tabetha did the complete opposite and told everyone she knew. She even told some of my friends! Whenever I even thought about getting Crystal, a huge smile would spread across my face.
Saturday 12th January Day 1
Neve: This was the day that I felt would never come. It was the day we'd all been waiting for. It was the day we were looking forward to for weeks. Because this was the day, we would get Crystal. When I woke up this morning, I actually jumped out of bed. I could hardly contain my excitement. We all got up bright and early, after that we immediately got dressed and ready for the big day ahead (which was unusual for us!). This was because we thought the earlier we got up and ready, the earlier mummy and daddy could go and collect Crystal … we were playing round our friend's house … it was a three hour drive to Diana's house … altogether this took around six hours.
Tabetha: When I saw our car, I ran out of the house with just socks on my feet, but they got wet so I took them off. I looked through the car window, Crystal was sniffing the glass and looking back at me.
Neve: We were all so happy that they were back. But the real reason was to see Crystal. I was so happy that I could cry. You may not believe it, but sometimes if you finally get something you've always wanted, it can cause you to suddenly become extremely emotional.
Tabetha: We brought her in and she spent ages sniffing all around the house. She was very quiet, then suddenly started barking like crazy, we didn't know why! Then we realised she was barking at our glass doors AT HER REFLECTION! Then someone made a noise upstairs and she started barking like crazy again. I think she was nervous and scared. Tonight she will sleep in the playroom, we put the radio on so she didn't get lonely. I can't wait to see her in the morning and play with her. Good night.x
Day 2
Neve: Last night was possibly the worst night sleep we've ever had… because of little Crystal scratching and whining against the stairgate. After about half an hour, we finally gave in and daddy spent the rest of the night with a snoring dog by his head in the playroom. After this, he told absolutely everyone about it, hoping for sympathy. But all he got was a lot of giggles. When Tabetha and I came downstairs the next morning, daddy was lying down on the sofa bed with an excited dog standing right next to his head!
Tabetha: Last night Crystal got upset when we went to bed … so my daddy slept with her and when we woke up this morning Crystal's bottom was right near daddy's head, yuk! Daddy said she snored in his face all night really REALLY loudly … Crystal came to my gymnastics today in the car, she has her own seatbelt and she met my friend …
Neve: … we took Crystal on a long walk together. We found a big field and tried to attempt recall with her. Daddy stood at one end of the field with a treat in his hand, while I stood at the other end with Crystal. Daddy shouted: CRYSTAL! Suddenly I was dragged across the field by a determined dog. When I called her, she ran straight over to me and smeared her muddy paws all over my favourite jeans!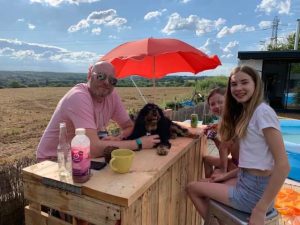 Day 3
Tabetha: I got up for school early so I could play with Crystal. We bought Crystal a toy bee with a bell inside. Crystal has another toy and it is a cute teddy bear with a tiny hat on its head. We call it Henry – named after Henry the dog we met at Diana's house! She doesn't seem interested in playing with them at all, she just wants belly rubs.
Neve: Today was the day I'd been dreading. Going back to school. I didn't want to leave the house this morning, OR CRYSTAL! I even pretended to be ill – but it didn't work … At school all I could think about was Crystal … When I saw Crystal at the school gates, I could've cried for joy … people love Crystal so much. We have already had about fifty offers of dog-sitting!
Tabetha: She met us after school at the school gates and we took her for a muddy walk in the woods. She won't walk if she can't see mummy or daddy! She is now sleeping on her own in the playroom, she doesn't bark in the morning like my grandmas's dog. Crystal is so cute, we are lucky to have her!
Day 4
Tabetha: I wish I didn't have to go to school! I want to stay home with Crystal! She just loves belly rubs! What do dogs dream about? Belly Rubs!
Neve: Crystal was really excited to see us this morning … It's not as if our cat jumps all over us and licks our faces. Talking of the cat, her name is Milly and she is definitely not happy about Crystal … Daddy tries to get them to bond, but it never goes as planned.
Day 5
Tabetha: Last night daddy filmed Crystal snoring OMG! SO LOUD! Even worse than daddy.
Neve: Today after school we took Crystal a walk through the streets, and she did a poo. Daddy had to pick it up because there was no way me or Tabetha would do it.
Day 6
Tabetha: We have a cat called Milly. I think Crystal likes Milly, but I know Milly DOES NOT like Crystal. She hisses at her as she walks past. I wish they liked each other more. Crystal has been going into the garden more, but she won't stay out there on her own. We have a big garden, she just walks around the edges sniffing. I love it when Crystal sniffs my face and ears, it feels so funny.
Neve: … she keeps expecting us to to come outside with her … we have to stop getting ready for school so then we can go outside with her. We'll find a solution and she'll grow out of the habit…hopefully.
Day 7
Tabetha: Well! Crystal has shown a different side of her today, she pulled Henry her soft toy out of her basket and started throwing him around the room playing, then she picked up her snowman toy and did the same! We then shook the toy bee and threw it, she went skidding across the room after it and slipped into the doors. She went crazy with happiness! But Crystal does not like the pub. I love Crystal.
Neve: … she's on cloud nine when anyone comes in the house. That's why she'd be a rubbish guard dog … When I come home from school, I always lie down so Crystal can lick my face … she also climbs over my neck. I've never laughed so much. Before Crystal, I would never let any dog get that close to me. But I do with her. But then Crystal's not any other dog. She's our dog. And she always will be.
Day 8
Tabetha: Crystal shakes her tail now so much her whole body wiggles and she nearly falls over doing it. She does it most in the morning. She loves belly rubs, she lifts one paw when she meets you so you know to rub to say hello. We have been teaching her to 'sit' and 'watch' when we give her a treat. She will kind of do it in the house, but not outside. I think because she doesn't like to get a cold bottom.
Neve: When I came downstairs this morning, Crystal was in her bed with her tail going THUMP, THUMP, THUMP against the sides. I sat on the sofa and she jumped out of bed and snuggled up next to me. She is adorable when she does that. Later today we took Crystal for a walk in the woods with our friends and their two dogs. Crystal doesn't like playing with other dogs … We kept her on the lead because we've only had her for 8 days … even if we did let her off the lead, it would be very unlikely for her to run off because she's so attached to us.
Day 9
Tabetha: We took Crystal to my Nanna's house today. We first went to the pub to meet Popps … Crystal still doesn't like pubs! She sat on Mummy's lap the whole time! She met my little cousins Leo and Lilah …
Neve: Today while Tabetha was at gymnastics, daddy and I took Crystal to dog training. To be honest I don't think she enjoyed it that much, because most of the dogs there were quite big and tall compared to her. We were doing really well there until we had to lie down. That was one of the commands that she doesn't do. We were standing there for ages trying to get her to lie down, but the closest to lying down she would do was belly rub position. Next was recall and that didn't go down too well. I ran over to the other side of the field and called her name, she started to run over to me. When I thought all was going well, it just had to take a turn for the worst. She changed her direction and ran over to daddy instead, It was really embarrassing. After that we took Crystal to nanna's house.
Day 10
Tabetha: I love it when Crystal meets us at the school gate, I get to hold her lead, but she refuses to move if she can't see mummy. Crystal can sure run. After school today we went in the garden and she ran around the garden so fast! I think Crystal is now happy to be with us.
Neve: Today I was off school sick, so I had the whole day with Crystal. When daddy took Crystal for a walk in the woods, I stayed home and took a nap on a beanbag. When I'd just about fallen asleep, I was disturbed by the front door being opened. Suddenly, Crystal burst through the door and charged towards me. She then put her muddy paws all over my pale blue dressing gown (I didn't acturally care too much about that). When Tabetha came home she was all over Crystal (as always).
Day 11
Tabetha: Crystal is getting more and more fun! She gave me her toy bee to play with her today, but she won't play with a ball or stick?! I thought all dogs love balls and sticks! When I now lay down on the floor she sniffs all over my face and then lays on top of me because she loves me, and I love her. Milly, our cat, still doesn't love her, maybe because today Crystal ate Milly's dinner.
Neve: Today was a Tuesday and I was back at school. I kept daydreaming about Crystal escaping into the school and jumping into my arms (as if this would actually happen). When I came home from school, Crystal had been playing with her toys a lot! Mummy even had videos of her doing it. She just took her toys out of her bed and started picking fights with them! This is a good sign, because it proves that she is finally settling in and feels comfortable around us.
Day 12
Tabetha: WE HAD SNOW TODAY! WHOOPIE! I thought Crystal would love playing in the snow but instead she liked eating it! She ran around for a little bit, then ran in the house. She snores so loud now, we can sometimes hear her from the bedrooms. She doesn't bark as much now and plays more and more. Crystal is the best dog ever and all my friends love her.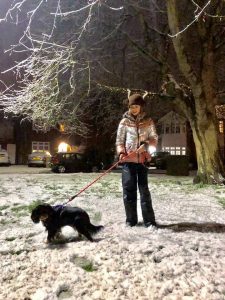 Neve: Hooray! Today has been awesome! When I woke up this morning, I had a surprise. When I opened the curtains, the scenery outside was well, white. We had snow! … we wondered how Crystal would take to the white stuff, as we already know she's not a fan of the rain. She didn't hate it, she just ate it and came back into the house again.
Day 13
Tabetha: We had more snow today. Crystal came outside with all our neighbours and helped us build a snowman. She doesn't want to go out sometimes, I can tell, because I hold out her coat and harness then I call her name, then she flops on the floor so we can't get it on her, that really makes me laugh, but also makes us late! I can't imagine life without Crystal, she is the best.
Neve: Today we had even more snow! Tabetha and I built a massive snowman together with zero help from Crystal. Crystal played in the snow with us a little longer than yesterday. Maybe she's more of a sunshine fan? It's so nice to have a dog in our garden. Crystal makes everything more fun.
Day 14
Tabetha: We celebrated 2 weeks with Crystal today, it's gone so fast! We took her to the woods after school. We still haven't let her off lead, I don't think she'd go far if we did, as she loves us too much. She does seem to know her name now … and at last she ran after a stick! She didn't bring it back though, and still doesn't chase a ball. When we got home we put her in our big sink and washed her feet. That didn't go down too well with Crystal at all. My job was to feed her treats whild she got her paws cleaned. I feel like Crystal was always meant to be our dog and I love her so much. She makes our family feel just right.
Neve: Crystal has changed so much since we collected her 2 weeks ago. She is more chilled out around us, she has also found a sense of playfulness that she didn't have when she first came to us. She is still nervous when she is out on walks, but she is completely herself in the house. It is hard to believe that we'd only had her for two weeks, because it feels as if we'd had her forever. Well, at least we will have her forever, because she is the best dog any 11 year old girl could ask for.
What have this lovely family been up to since?
Tabetha was 8 yrs old, Neve 11, when the diaries were written. In the 2 years since then Crystal has taken a leading role in family celebrations, acquired a pet passport and has had many adventures.
She's explored numerous places in the UK, including fossil hunting in Dorset. Crystal toured France in the Motorhome too: She visited lots of Chateaux in the Loire Valley – where she was the centre of attention as she had to be carried around in a papoose! Crystal went kayaking, swimming in the the Dordogne river – and also to the summit of France's biggest volcano!
Crystal has been back to visit her foster mum, and her family continues to send updates of Crystal's adventures.
Lucky Crystal. She found her perfect forever home.